What's New !


January - March 1997
---
---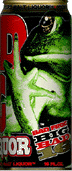 Greg Gerke reports seeing bad Frog Beer, in a 16 oz. can. These were found in Jacksonville, Florida. There is a possibility that they are being pulled from the shelves because of the "possibly obscene" gesture the frog makes. Anyone else have more info on this can ?
---



Kip Rodier reports seeing the first of the 1997 Busch NASCAR series cans. He saw it on March the 20th at Super Liqours in Peoria, IL in 16 oz. cans. 1st of the set is Bristol Motor Speedway. Kip has singles avail for trade.
---




Coldsburg Beer by Coldsburg Brewing Co. Another contract brew.....this one is brewed by Evansville Brewing Co. There is also an Ice version, basically the same, but black instead of red.
---


Cliff Treend reports seeing Coors Beer (historic label series) by the Coors Brewing Co. He saw them at Walgreens in Mountain View, CA in 12 oz. cans. Pictured here are 2 of the 6-can set of original coors labels from the 1800's and early 1900's. Each label is different, with a paragraph of notes on the history of the label. These are also flat tops. Cliff brought this to my attention that we had not covered these yet. As you know, they were available all over the U.S.
---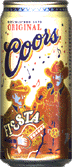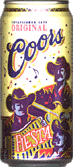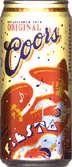 Scott & Laura Spencer report seeing Coors Beer (Fiesta Series) by the Coors Brewing Co. We saw them at Smith's Supermarket in Las Cruces, NM on March 29th, in 12 oz. cans. Pictured here are the 3 cans of what I believe is a 3 can set. They were packaged in 12 packs only, with a reference on the 12 pack to the "Nuevas Latas Festivas". Each can has a small paragraph on the side panel. Pictured, from left to right, is "Tejano", "Norteno", and "Mariachi". In the first 12 pack we bought, the breakdown was 2, 1, and 9. We have them for trade, but unless the mix is different, we may never get very many complete sets.
---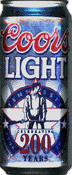 Greg Gerke reports seeing Coors Light by the Coors Brewing Co. Tennessee 200th Anniversary celebration can. These were found in northern Tennessee. Greg has singles for trade.
---




Special edition of Genny Light by the Genesee Brewing Co. This can is for the Wings of Eagles airshow, Batavia, NY, held on the 17th & 18th of August, 1996.
---




Greg Thurmond provided the Korner with this nice import can. Brewer is listed as Engel-Brauerei Schwabisch Gmund (Germany). The label lists this as Limited Edition #1. Greg has singles available for trade/sell.
---




Issued to celebrate the renaming of the former Carolina Thunderbirds Hockey team. Now playing in Wheeling, West Virginia as the Wheeling Nailers. Brewed by the Pittsburgh Brewing Co. I have a couple of these left to trade.
---




Several members have reported seeing the latest Ski cans from Michelob.....they are available in several states. Bruce Remick has a complete list in his January edition of Talkin' Sports. Pictured is Lincoln (Loon), NH, "Walking Boss". Scott & Laura Spencer have these available for trade in singles.
The current list of states where they have been reported available includes: Arizona, Georgia, Maine, Massachusetts, Michigan, New Mexico, Virginia & Wisconsin.......
---




Greg Gerke sent us this picture of Miller Lite Beer by the Miller Brewing Co, in a 12 oz. can. It is a 20th Anniversary can for the Cincinnati, OH Oktoberfest. It was available in the August - September, 1996 time frame and is no longer sold.
---




Miller Lite Beer by the Miller Brewing Co. Celebrating the Green Bay Packers Super Bowl XXXI victory. Steve Gilbert, #5207, has these available for trade. He does not have an e-mail address, but can be reached at 1311 Hug Road, St Germain, WI 54558.
---




Roland Mueller, BCCA #30009, reports seeing a new Milwaukee's Best Premium, Light Beer, and Ice Beer by the Miller Brewing Company. It was seen on 14 February, 1997 in West Olive, Michigan. Description of can: The solid white background is replaced by diagonal white and gold stripes. The horse drawn wagon and brewery have been removed. The encircled Eagle head has been replace by the Miller logo with a winged eagle. The same colors were used. Light is same, but with blue & white colors. The Ice can is pictured here.
---




Greg Thurmond sent me this latest in the Pete's Brewing line. Label lists the brewer as Pete's Brewing Co, St. Paul, MN.
---




Regal Beer by Minnesota Brewing Co. Packed for Hy-Vee, Inc. There is also a Light version in silver & blue.
---




Sportz Beer by San Antonio Brewing Association.
---




Sportz Light Beer by San Antonio Brewing Association.
---




Stone Peak Beer by Stone Peak Brewing Co. Probably is a contract beer & actually made by Point Brewing Co, as the city is listed as Stevens Point, WI.
---
Last updated by Scott & Laura Spencer on 5/3/97
---
Spencer's Beer Can Korner *** U.S. Chapters*** At-Large Chapters*** Int'l Chapters*** Member Info

Talkin' Sports*** Want Ads*** Trade Shows*** Korner Kapers*** Feedback